METEOR SHOWER Single from fOREVER TILL YOU DIE... TBA Spring 2016


BALLROOM By Olivier Heim & Pictorial Candi. Mansions & Millions Mixtape.

////

NEW TRACK for XMAS


//////
DRINK is an actual bottled fizzy drink which comes in 2 different flavors!! METH POP & PUNCH IN THE FACE. Download code at the reverse of the tag. Premiere on October 4th 2013.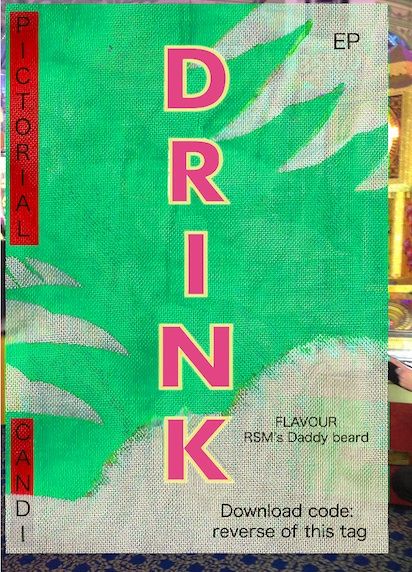 ///
EAT YOUR CONEY ISLAND Debut album 2012
Pictorial Candi's debut album is out: Eat your Coney Island. Hurrah! Giant orgazm. For the occasion she's learnt to play a crap guitar, which can be heard in a couple of tunes. As we speak to Pictorial Candi, she insists through the spitting of a dry cookie on how she despises overly produced little "cool" beats and all that extra bollocks that makes a bad song supposedly digestible. In the music there is a hue of her adoration for R. Stevie Moore, Skip James and Son House.
"Off-stream charismatic female singer/guitarist P. Candi is rough and pure like very few are out there. A brilliant songwriter and a completely engaging persona on stage. Think Daniel Johnston in an asian/caribean, lo fi punk rock, chamber, casio-techno-tone miasma. She alone is New weird Poland." Miss Yolanda Love
EAT YOUR CONEY ISLAND LIVE BAND: Pictorial Candi with the Orange Peel (P.C.O.P.) is P.C. with Tom Pop, Marcin Masecki, Adam Byczkowski + guests.
ALBUM MUSICIANS: Jerzy Rogiewicz, Piotr Zabrodzki, Adam Byczkowski, Tom Pop, Kuba Ziołek, Piotr Wróbel, Marcin Masecki and Eddie Stevens.
ALL TRACKS BY P. CANDI. MIXED BY PIOTR ZABROCKI